Reviewed by Tammy
TITLE: No Quarter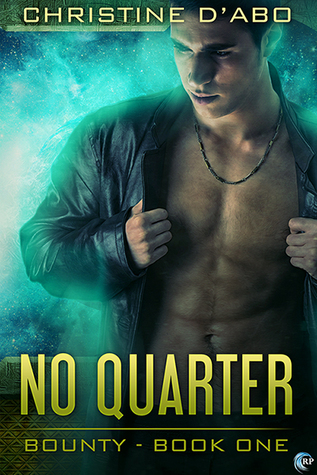 SERIES: Bounty, #1
AUTHOR: Christine d'Abo
PUBLISHER: Riptide Publishing
LENGTH: 235 Pages
RELEASE DATE: April 23, 2016
BLURB:
When bounty hunter Gar Stitt is given a simple locate-and-retrieve mission, he's convinced it's a waste of his skills. His success rate is legendary, after all, and Captain Faolan Wolf isn't hard to find. He's the most notorious pirate in the galaxy, and when he shows up planet side to take his pleasures, he's far from subtle. Faolan never expected a hot but tightly wound hunter to walk into his private party and try to apprehend him single-handedly. And when an unexpected betrayal forces them to work together, Faolan's even more surprised to find himself drawn to Gar personally — especially since neither of them do personal. Gar had intended to put Faolan in prison. Instead he finds his solitary existence shaken by his desire for the pirate. And when the bounty hunter becomes the hunted, he must put his faith in Faolan and his pirate crew, or run the risk of ending up dead.
REVIEW:
No Quarter is about bounty hunter Gar Stitt's mission to locate and retrieve the successful pirate, Captain Faolan Wolf. Gar knows the mission is an unusual one for him to be sent on, he usually goes on the more difficult missions but he's a well-trained operative so he does as he's been ordered. Unbeknownst to Gar, Faolan is the bait for his own trap and Gar steps into it.
Faolan has stolen an object that he knows is worth an incredible amount of credits, he just has to get Gar's boss to agree to buy it. Everything goes well for both men until they're on their way to Faolan's ship and they get attacked. As they're working through exactly who it is that is under attack both Faolan and Gar can't hide their attraction for each other and decide to have a bit of fun while they're deciding what to do. It isn't until they reach Faolan's ship and Gar meets up with the sister he has believed was brutally murdered ten years ago when their parents were murdered. As everyone is sorting through their thoughts and feelings they discover who is the person being hunted and the person who is responsible. When they find the person responsible for the attacks and the bounty on Gar they discover that not only has this person tried to destroy Gar's life but he's the one responsible for the troubles in Faolan's life as well.
There are a lot of space battles, mystery, intrigue, family issues and dysfunctional people but the best part of this book is the amount of love that is discovered and rediscovered. Christine d'Abo has managed to blend all the elements needed to write a dark, angsty, mostly believable romance story about two men from opposite sides of life and the law. If you enjoy reading sci-fi romance I definitely recommend you read No Quarter.
RATING:  
BUY LINKS: