Reviewed by Marieke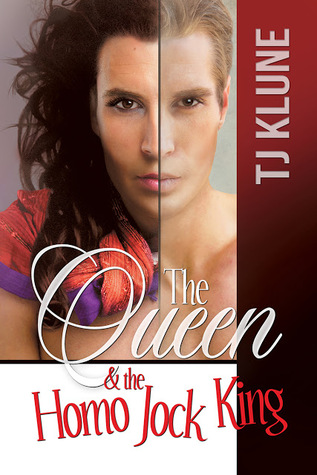 TITLE: The Queen & the Homo Jock King
SERIES: At First Sight #2 – Sequel to Tell Me It's Real
AUTHOR: TJ Klune
PUBLISHER: Dreamspinner Press
LENGTH: 350 pages
RELEASE DATE: February 29th, 2016
BLURB:
Do you believe in love at first sight?
Sanford Stewart sure doesn't. In fact, he pretty much believes in the exact opposite, thanks to the Homo Jock King. It seems Darren Mayne lives for nothing more than to create chaos in Sandy's perfectly ordered life, just for the hell of it. Sandy despises him, and nothing will ever change his mind.
Or so he tells himself.
It's not until the owner of Jack It—the club where Sandy performs as drag queen Helena Handbasket—comes to him with a desperate proposition that Sandy realizes he might have to put his feelings about Darren aside. Because Jack It will close unless someone can convince Andrew Taylor, the mayor of Tucson, to keep it open.
Someone like Darren, the mayor's illegitimate son.
The foolproof plan is this: seduce Darren and push him to convince his father to renew Jack It's contract with the city.
Simple, right?
Wrong.
REVIEW:
So….right….Let me gather my wits after reading this one, because I need a minute to dry my tears and rinse out my mouth (from throwing up a little from all the extreme sweetness).
Sandy (who we all know from the book Tell Me It's Real) aka Helena Handbasket; drag queen extraordinaire, hates Darren Mayne. Hate…so much hate, that he might choke on it. Or on his 'feelings'.
Sandy and Darren have a strange love/hate relationship, which Sandy denies vehemently. He convinced himself that he hates Darren, but everyone can see it's more love than hate…and some hurt too. Everyone around them knows there's more to it, but Sandy (and Helena) refuses to think about that.
When the owner of Jack It asks Sandy to seduce Darren to save the club, Sandy agrees because it's the one place he can be Helena. Of course nothing goes as planned and TJ gets them both in situations that no one but him can think up. Everyone from Tell Me It's Real comes by and they're just as funny here. Paul and Vince have a big part and their conversations are (again) hilarious.
I don't know if TJ Klune is the most amazing author or his mind is the most terrifying place that has ever existed. He takes you to places you never knew could be created, and makes you feel things….THINGS. Like pain, in your stomach from laughing and from sadness. You're going to ooh and aaw a lot, crinch and gasp and maybe even throw up in your mouth a little.
If you don't like characters that are all over the place and talk in circles, you might want to skip this one. But if you can handle the crazy, this book will deliver you soooooo much laughter.
Sandy is at times endearing, sometimes infuriating, but mostly batshit crazy. Darren is an ass, but a cute and funny ass. Which makes it okay most of the time. Yes, I wanted to hit him on the head when he didn't tell Sandy the truth, but Sandy needed a good ol' spanking too. Paul and Vince, Matty and Larry, Nanna and Johnny Depp and Darren's mom are all insane, but so very loving. I wish everyone had so much love in his or her lives. Too bad a lot of people don't have unconditional loving parents…or nannas.
If I could give more than five hearts I would, but because I can't, I'll have to settle for five big, fat, blinking and glittering hearts. Well done Mr. Klune, well done.
RATING: 
BUY LINKS: