Reviewed by Jenna
TITLE:     Without a Net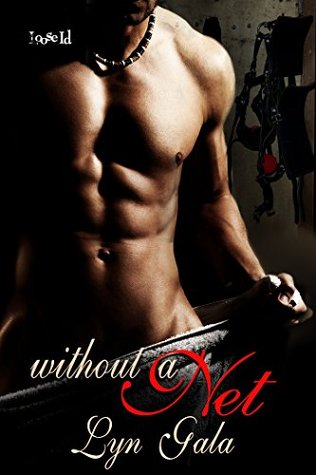 AUTHOR:     Lyn Gala
PUBLISHER:     Loose Id
LENGTH:     366 Pages
RELEASE DATE: August 24, 2015
BLURB:
Oliver Robertson has been assigned to go undercover in one of the shade clubs that litter the seedier parts of town. He has never engaged in the sort of edge play found in those places, preferring the BDSM in the more mainstream control clubs. However, to find the criminals behind a series of kidnappings, he must go in undercover as a shade sub. The mission becomes more complicated when his captain asks him to collect evidence against a lieutenant who might be a dirty cop.
The case quickly gets out of hand, and Ollie finds himself caught between wanting to do his job and not knowing who to trust. That confusion grows worse when a number of sexy and dominant men challenge his assumption that he prefers safe, contractually negotiated sex. It turns out he has more of a wild side than he expected, and given that he's surrounded by dangerous men, and he can't distinguish the good guys from the bad, that's terrifying.
When Ollie gives his trust to Travis Goode, a dominant who appears to be a federal agent, he might be making the connection of a lifetime or dooming himself forever.
REVIEW:
This book begins when Ollie, a police detective, reluctantly goes undercover, taking an assignment in a shade BDSM club in attempt to discover who is behind a string of kidnappings. Ollie is posing as a worker and a sub, but after his first day he feels like he's intentionally being fed to the wolves by his anti-gay lieutenant. Though Ollie reports his suspicions in attempt to have some kind of back up, he still ends up in a mess. Ollie's captors put him through sub training that has him doubting his identity as well as fearing for his life. However, when he finally meets up with Travis, Ollie feels a connection with him like he's felt for no other. Their sex is hot and they work great as a team to bring justice to the force.
I found this book enjoyable and pretty hot. Though I'm generally not fond of detective stories, the plot was unique enough to draw me in. However, it took some time for Ollie to grow on me. His police officer persona seemed to clash with his sub persona making each one hard to believe. In the end it was his sub persona that seemed to shine the brightest and make me start to like him. Though I was expecting this book to be more intense during Ollie's time in captivity, the romance in the end between him and Ollie made up for my earlier disappointment. I wasn't sold on the connection between Ollie and Travis the first time they were together, but afterward they made the perfect couple. In addition to their budding romance, the BDSM and sex scenes between them were extremely hot. This is the first book I've read by Lyn Gala, but I definitely plan to read more. I recommend Without a Net to anyone who likes m/m BDSM and m/m erotic romance with detective and FBI themes.
RATING:
BUY LINKS: