Reviewed by Jenna
TITLE:    Sunset Park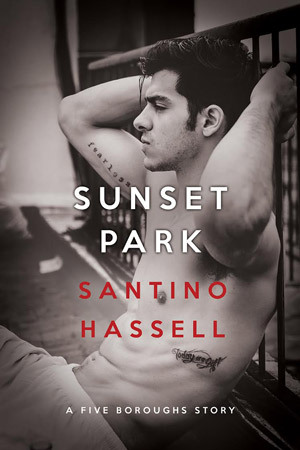 SERIES:    Five Boroughs #2
AUTHOR:    Santino Hassell
PUBLISHER:    Dreamspinner Press
LENGTH:   230 Pages
BLURB:
Raymond Rodriguez's days of shoving responsibility to the wayside are over. His older brother wants to live with his boyfriend, so Raymond has to get his act together and find a place of his own. But when out-and-proud David Butler offers to be his roommate, Raymond agrees for reasons other than needing a place to crash.
David is Raymond's opposite in almost every way—he's Connecticut prim and proper while Raymond is a sarcastic longshoreman from Queens—but their friendship is solid. Their closeness surprises everyone as does their not-so-playful flirtation, since Raymond has always kept his bicurious side a secret.
Once they're under the same roof, flirting turns physical, and soon their easy camaraderie is in danger of being lost to frustrating sexual tension and the stark cultural differences that set them apart. Now Raymond not only has to commit to his new independence—he has to commit to his feelings for David or risk losing him for good.
REVIEW:
My god, amazing, spectacular! I loved this book even more than the first in this series. David, the cute twink from Sutphin Boulevard has been hanging out with Michael's little brother, Raymond, for some time. When the two decide to be roommates, Raymond admits to his bi-curiosity. They decide to experiment, but things become complicated when they realize there's more than experimentation between them. In addition to dealing with baggage from his previous relationship, David has fallen for straight guys in the past and fears Raymond will change his mind about the gay thing and leave him. David holds back for this reason, but Raymond takes his reluctance to commit as rejection. He believes he isn't good enough for David since he was a burnout with a long history of unemployment.
Santino Hassell creates such adorably hot twinks, and David is the perfect example. I was drawn to David from book one from the point his character was introduced in a threesome with Michael and Nunzio. David is so sexually open that he's often written off as a slut, but at the same time he's sophisticated with a respectable job. Though his uptight manner at work was not my favorite side of him in Sutphin Boulevard, I loved seeing David with Raymond. It was so hot how they cuddle even when David believed Raymond was straight. David was perfect; soft in every way except for the defensiveness he'd built up from his previous relationship. On the other hand, Raymond is surer about himself and what he wants. He has low self-esteem when it comes to his job prospects, but other than that he knows what he wants. Even though it wasn't an easy road, I loved seeing these two come together. As always with Hassell's work, the complexity of social interactions between the characters was spectacular and drove the story. As layer after layer of difficulties piled up, it seemed like David and Raymond would never work things out. However, I was more than happy with the ending. I recommend this book to anyone who loves m/m erotic romance.
RATING:
BUY LINKS: