Reviewed by Chris
TITLE:  How to Walk Like a Man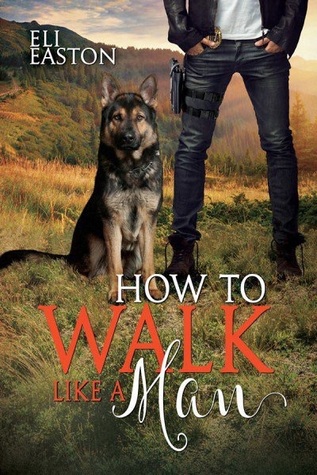 SERIES:  Howl at the Moon #2
AUTHOR:  Eli Easton
PUBLISHER:  Pinkerton Road
LENGTH:  241 pages
BLURB:  
Deputy Roman Charsguard survived Afghanistan where he lost his best friend—his K-9 handler James. Roman was a military dog until two years ago when he developed the ability to shift into a human. It's not easy to learn how to be a man. He found a place to live in Mad Creek, a haven for the secret world of dog shifters. Finding a reason to live has been harder. That is, until a certain human walks into the Mad Creek Sheriff's office and starts making trouble.
Matt Barclay has the worst luck. First he was shot in a SWAT drug raid, then he was sent as DEA investigator to Mad Creek, a little town in the California mountains. Matt's job is to keep a lookout for illegal drug farms, but nobody in the town wants him there. And then there's Roman, Matt's erstwhile baby-sitter. He's the hottest guy Matt's ever seen, even if he is a bit peculiar. If the town doesn't kill him, sexual frustration just might.
The town is counting on Roman to prevent Matt from learning about dog shifters, Matt's counting on Roman to be his work partner and tell him the truth, and Roman's trying to navigate love, sex, and a whole lot of messy human emotions. Who knew it was so complicated to walk like a man?
REVIEW:  
While I loved the first book in this series, How to Howl at the Moon, I was really looking forward to reading the sequel. I adored Roman in book one, and I knew that his story was going to be a great one.
I wasn't wrong.
Sheriff Lance Beaufort (from How to Howl…) is less than pleased when he finds out that the DEA is planning on stationing an agent in his town for the next year. Roman, newly-made deputy of Mad Creek, may not be as obvious in his worry over his town, but he is no less protective. After the loss of James, his handler in Afghanistan, and his then Quickening from dog to human, Roman is determined to look after the people and place his now calls family and home.
There is just one itty-bitty problem: he just wants to rub himself all over Matt Barclay–the DEA agent sent to Mad Creek. While Matt is hardly a bad person, he is also a trained investigator…and well, it doesn't take much (like a man sniffing a fire-hydrant) for Matt to clue in on how not-normal the people of Mad Creek are. Liking the man is not a fault…but letting Matt clue in on the mad that is Mad Creek could put Roman, Lance, and everyone else in jeopardy.
I really liked the idea behind this series when I read book one. You don't get a lot of reverse-shifters (and boy does that sound like it is the name of a sexual position) in this (or any other) genre. The premise that dogs, under some pretty special circumstances can become quickend and turn human is fascinating. And How to Howl proved that is made for a great world. But in How to Walk…man, it was all that and a bag of doggy treats.
I love love love love Roman. He is just so…innocent and brave and loyal and cute and lovable. I want to give him belly rubs and then kiss him silly. I love how as I was reading he had such an unique feel and voice. Even if you never knew that he was once a dog, you could still feel it in the way he was written. Lance was cool and all, but Roman–being as he was quickend and not born that way–gave this book a whole new feel to it.
And the sex questions he kept asking Lance…omg. Piss my pants funny. Lance was so not wanting to even go there, and Roman was so earnest and sweet. I wanted to feel sorry for Lance because he clearly was so uncomfortable, but I can't. I just can't. It was too damn entertaining.
Anyways…this book was dang awesome. And I am so on a roll this week. I love it when I get the chance to read a bunch of really good, if differently flavored, books. This one had a bit of action, a lot of fun, and a very damn good romance. Even if it took Matt a while to find his backbone.
The ending was also pretty damn nice as well. I love the Big Reveal scenes when they are done with precision. Lots of angst, lots of emotions, and a satisfactory ending. Not much more you can ask for.
Well, except maybe a bit more? Please?!
RATING:
BUY LINKS: