Reviewed by Dan
Warning: This book might be a bit too extreme for some readers, for the rest of you…enjoy the smutty ride.
TITLE:    Crazy Kinky Dirty Love (The Box Set)
AUTHOR:     K.A. Merikan
PUBLISHER:  Acerbi & Villani, Ltd.
LENGTH:     194 Pages
BLURB:
Crazy Kinky Dirty Love is a series of short stories and novellas revolving around the sex life of a young, kinky couple. Dan and Kyle don't hesitate to go through with even the dirtiest and least politically correct of sexual scenarios. Each story focuses on a particular roleplay fantasy.
With a partner who knows you well, and whom you trust, even rough group sex can be a declaration of love.
All stories focus on dirty talk and humiliation roleplay within a relationship.
REVIEW:
Have you ever wondered what a porn movie would look like as a book? With each filthy scene displayed in full text for your sordid pleasure? Then look no further! If that thought leaves you squirming in discomfort? Walk away…you won't enjoy it. If you're a big old perv like me…enjoy the read.
I'm actually not kidding, even a little bit. This book reads like a porn movie. There isn't a huge amount of plot, but instead there is a fully hardcore set of stories revolving around a couple named Dan and Kyle, and their ever increasing forays in the world of humiliation. I've decided to show you the blurb on each story, and give you my impressions of each. Sit back. This could get bumpy.
Story #1 –Crazy Kinky Dirty Skinhead–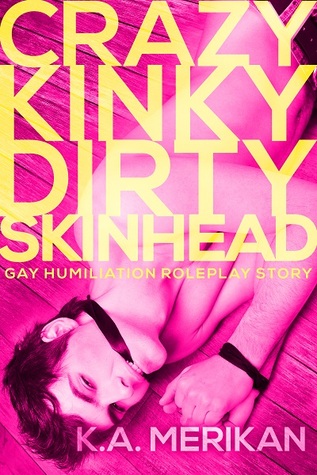 The Scene: Kyle promised himself that when he goes to college, he will change. He won't sleep around like before. But the side of him that wants to fulfill dirty, kinky fantasies is about to rear its ugly head when the LGBT club gets a new member. Dan is the big, bad boyfriend-to-be Kyle always dreamed of, but will Dan still treat him seriously when he finds out about Kyle's most secret fantasy?
Dan's Impressions: So this hot guy walks into an LGBT club on a college campus, and right away is given directions to the dance class down the hall, because obviously he isn't gay. When it turns out he is….things get interesting. Kyle, the President of the LGBT club comes across as being a totally uptight little prig, who just wants to appear "normal". He is appalled at their club being next to the BDSM club at the local pride parade. So why an hour or two later is he arrested on his knees with Dan's dick stuck in his mouth? I thought this story was an interesting introduction to the couple, but wondered where it was going to go from there….
Story #2 –Crazy Kinky Dirty Stud–
The Scene: This year, Kyle is taking the plunge and letting his new boyfriend, Dan, meet his parents for Christmas. It might be time to share one of his secret fantasies with Dan and see if he doesn't freak out. Will Dan turn out to be a stud or a puppy?
Dan's Impressions: OK, I get that this is a serial of different stories about Kyle and Dan.  But where the hell did the dog fantasy come from? Frankly this one left me a bit confused, and I was really glad it was so short.   I guess because I've never had any animal fantasies, I might have looked at it from my own perspective.  But even with a guy dressed up and pretending to be a dog….yeah, not so much!
Story #3 –Crazy Kinky Dirty Home Invasion–
The Scene: Dan and Kyle have just moved in together, but to make their new place cozy, Dan wants to make friends in the neighborhood. Dan's dirty minded boyfriend has been mentioning his interest in a threesome and Dan is ready to take the plunge. He's willing to invite someone new into their bedroom, but it will only be happening on his own terms. And those involve handcuffs, duct tape, and a fake gun.
Dan's Impressions: It is time to explore a little bit, and Dan and Kyle have decided to bring in a third person this time around. Their next door neighbor, who has been eyeing Kyle unashamedly, is invited along for the ride. Dan plays the home invader, the neighbor plays the boyfriend, and Kyle plays the poor little sex object of both. Hmmm, these stories are getting hotter….I particularly liked when the neighbor was sent home, down the hallway, still reeking of sex…
Story #4 –Crazy Kinky Dirty Clowns—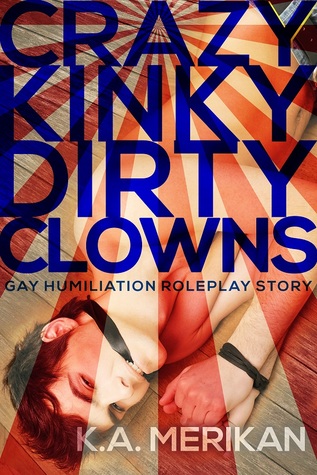 The Scene: Kyle's rushing home after a late evening shift. He takes a shortcut through the park, but a poster informing about a killer clown in the area makes him apprehensive. It turns out there are cackling shadows hiding in the dark, but what does a bunch of crazy clowns do when they catch you?
Dan's Impressions: This one started out really creepy to this reviewer. I'm not a fan of clowns. They've always given me the creeps. You have no idea who is behind that makeup, it could be anyone, with any sick desires and thoughts going through their head! So here is Kyle, rushing home on Halloween to help Dan hand out candy. When he is cutting through the park, he sees a flyer of a wanted criminal who is a clown. It is dark, he is in a dark park, and there is a wanted clown. See where I'm going here? Before Kyle gets out of the park, he is surrounded by clowns who bind him with duct tape and drag him to a waiting van. He recognizes Dan's tattoo, so knows it is a scene, but how frigging creepy is that. Before the night is over, he will be used by every clown in the clown car, all five of them, and he will love every minute of it!
Story #5 –Crazy Kinky Dirty Pirates—
The Scene: All Kyle knows is that he's in for a vacation break of a lifetime. He is going to the seaside with his boyfriend Dan, and as he loves surprises, he lets Dan arrange all the details. What he doesn't know is that he is about to get kidnapped by a whole crew of pirates, all of them sex starved for a cabin boy they can keep on board and fuck whenever they please. Kyle's endurance will be tested to the limits, and the surprises will keep coming, as Dan ups the game once more, with a treasure map to much more than a stack of chocolate coins.
Dan's Impressions: This was the longest story in the box set, and the hottest by far. In this story, Kyle and Dan are going on a four day cruise with the four guys from the clown incident, who it turns out they have had more "five on one" parties with. This time, Kyle is "kidnapped" from the pier and carried aboard the pirate ship (really one of the men's private yacht). For this scene, they have all tested negative for HIV and other STDs and it is full on bareback sex. Before the scene is over Kyle will have cum leaking from both his holes, he will experience a golden shower for the first time, and he will be forced to walk the plank. I liked this one. Tied up and forced to service 5 big dicked, brawny, cum dripping pirates? Sounds like some definite fantasy material to me!
Boxed Set Final Thoughts:
I enjoyed this book. It was a definite departure from my normal reading material. Although I've read most, if not all, of K.A. Merikan's books, the ladies surprised the hell out of me with this one. They always write a lot of hot sex into their books, but I hadn't experienced one that was ONLY sex before this one!
I recommend this book to anyone who is into reading a really smutty, humiliation and role playing type book. There isn't a lot of plot as I said above, but there is a lot of pretty believable experimentation into ever increasingly more convoluted fantasies by this young couple.
RATING:
BUY LINK: