Reviewed by Donna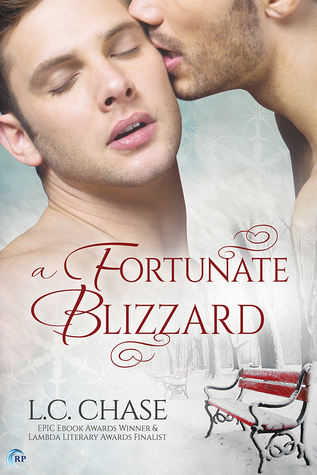 TITLE: A Fortunate Blizzard
AUTHOR: L.C. Chase
PUBLISHER: Riptide Publishing
LENGTH: 164 Pages
BLURB:
There are worse things than being stranded in a blizzard.
Artist Trevor Morrison has always appreciated the little things in life, treating each day as a gift. And with good reason: he's been on the transplant-recipient list for too long now. When he learns just how numbered his days truly are, he resolves not to take them for granted. But he won't be unrealistic, either—which means romantic commitments are off the table.
Marcus Roberts seems to have it all. He's handsome, financially sound, and on the fast track to partnership at a prestigious law firm. In reality, though, his drive for success has meant no time for friends or relationships. Add in the fact that his family discarded him long ago, and he's facing yet another holiday season alone.
When the biggest snowstorm to hit Colorado in decades leaves Marc and Trevor stranded at the same hotel, a chance encounter and a night of passion leads to more than either of them expected. Finding comfort in each other is a welcome surprise, but time is not on their side. Either they find a way to beat the odds, or they lose each other forever.
REVIEW:
"Would this be his last winter? His last Christmas? This wasn't how it was suppose to go. He wasn't suppose to be thinking about "putting his affairs in order" before he reached forty."
This story had me in tears right from the beginning, as we're introduced to Trevor Morrison who is meeting with his doctor, and is most definitely not getting the holiday miracle that we're taught to wish for. Instead, after seven years on dialysis, after seven years of waiting for a kidney, he's receiving the news that his time is almost up. The doctor is predicting a year at best, and if he makes the decision to stop the dialysis, he would be looking at dying within two weeks. This scene was upsetting and somewhat distressing, as the sense that the last dredges of hope were draining out of this man, was almost something I could physically feel. But, come on, we know he's not actually going to end up dying. It's a romance, after all. So I can admit that I loved the way this author drowned me in the feels right from the start. It hurt sooo good.
Our second MC Marc is dealing with his own demons. He has spent the last twenty years of his life trying to prove himself to the mother who told him he wasn't good enough and rejected him. Now, on the verge of becoming the youngest lawyer to make partner at his prestigious law firm, he's beginning to see just how lonely his life has been. Trouble is, he's not sure how to fix it, or if he's even willing to make the effort.
When "Snowmageddon" shuts down all airports and roads, both men find themselves stranded in a hotel together, two days before Christmas. Their eyes meet across the room, in a totally clichéd yet oh-so-perfect moment, and lightning pretty much strikes, their attraction is so strong. Honestly, I adored this "connection at first sight" so freakin much. Not that it's instant love, but still, the corniness of it would usually leave me rolling my eyes with exasperation. Maybe it was the fact that this is my first holiday story of the year and I was in the mood for some warm fuzzies, or maybe this author just has mad skills…either way, I was totally willing to swoon over their first meeting.
The fact that some blood boiling sex closely followed that first meeting certainly didn't hurt at all. The author channeled those mad skills to give these two men scorching chemistry and once again this story completely flipped my emotions in a different direction. Swear to god, I didn't know what to expect next. Was I going to cry, laugh, coo over how adorable they were, or have to fan my blushing face as Trevor and Marc burned up the pages? I was an emotional mess and loving every minute of it!
Any secondary characters were few and sparsely used, but at the same time they were employed well to help us understand more about our main characters lives and personalities. Trevor's mother and Marc's work friend/paralegal, Kate, were probably the most notable two, and though they weren't given much page time, they were still developed well enough in relation to their connection with the plot that they were more than simply cardboard props.
The ending was faultless, and by that I mean that everything worked out perfectly but not easily. I'll admit, I figured that Marc would be able to give Trevor his kidney and they would live happily ever after. How simple would that have been? Probably a little unbelievably neat and tidy, and the author obviously agreed because instead of the easy solution, we got the extra special version instead.
It's that time of year when Christmas stories begin to make an appearance, and though this is the first that I've read this season, I'm not hesitating to say that it will also be one of (if not THE) the best. I loved Marc, I loved Trevor, and my god, do I love that cover!
"I would move mountains for you, Trevor. But whatever may or may not come of us, most of all, I want to know you're out there living and laughing and lo-loving, painting the world in joy. Just so long as you're alive."
RATING: 
 BUY LINKS: