REVIEWED by Danielle
Series Review Nothing Special by A.E Via
Title: Nothing Special
Series: Nothing Special #1
Author: A.E Via
Publisher: Via Star Wings Publishing
Length: 305 pages
Blurb:
Detective Cashel 'Cash' Godfrey is big, tattooed and angry so people typically keep their distance. He's fresh out of the police academy, however, no one is looking to partner with the six foot four beast with a huge chip on his shoulder and an inability to trust. When Cash scans the orientation room he wasn't expecting to find sexy hazel eyes locked onto him. Eyes of the handsome Detective Leonidis 'Leo' Day.
Leo is charming, witty, hilariously sarcastic and the only one that can make Cash smile. He's proud, out and one bad-ass detective.
Together Cash and Leo become the most revered and successful narcotics detectives Atlanta's ever seen. Able to communicate and understand each other, without even having to voice it, they quickly climb up the promotional ranks.
When Cash saves Leo's life in a raid that turns deadly, Leo begins to see something in the big man that no one else does…something special. But Leo fears he'll never break through the impenetrable wall that protects Cash's heart.
Nothing Special takes the reader through various emotions throughout the richly fulfilling plot that's full of erotic gay romance, heartache, passion, trials and tribulations, police action scenes, and an intriguing twist that comes to an amazing ending that's impossible to see coming.
REVIEW:
Ok crush alert! I admit upfront I fell so hard for these guys Day and God  (Leo and Cash) They are fucking (literally) freaking fantastic.
Together they are magic.
After reading Miss Via's latest release Defined by Deceit, which I really enjoyed, I wanted to check out some other work by her. That put me on the path to "Nothing Special." As I'm a lover of a good series, I was intrigued and ready to start this one.
I had heard different opinions on it but I made sure not to check out any reviews on it or anything as I wanting to go in with an open mind and just see where it would take me.
And boy did it take me places! I was completely engrossed by this story and with the characters. And not only with God and Day but also with the side characters featuring in this story especially Ronowski and Johnson.
I couldn't stop reading and Miss Via totally pushed all my buttons with this story.
The character description, the close-to-sinful relationship description between them and the sexual tension pouring of the pages absolutely did me in.
Day's humor is sharp and slick and it will have you laughing out loud at times. God's act of being the grumpy man is crackling at times. The way they transform from being partners at the job to become partners in every sense of the word is fascinating and well thought out.
There is a little pieces not mentioned in the blurb that can set you off but for me the "menage" aspect was surprising and added only extra to the intrigue as far as I was concerned but I can understand that it can be a problem for some and it should be warned for.
As I am doing the series in a review I saw in the blurb for book two that this pairing won't come back in the second book and that for me feels like a shame as the chemistry between them was off the charts.
This story is intriguing and it gives you all of what's promised in the blurb.
As I owned the first version of this book I noticed there was a revised version and I kindly got that send to me by the author.
I think that 2nd version is definitely an improvement on the first version with the corrected editing and the extension.
RATING:
Buy Link: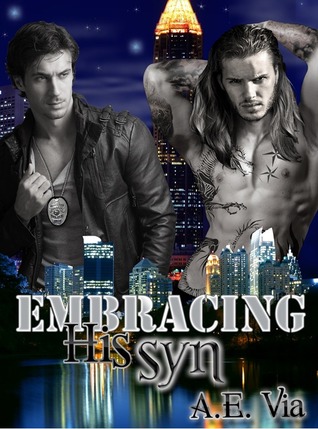 Title: Embracing his Syn
Series: Nothing Special #2
Author : A.E Via
Publisher: Via Star Wings publishing
Length: 310 pages
Blurb:
(This story contains characters from previously published novel 'Nothing Special' but Embracing His Syn is a stand-alone novel.)
Sergeant Corbin 'Syn' Sydney transferred from the Philadelphia Police Department as soon as he'd heard there was going to be an opening on Lieutenant Cashel Godfrey and Lieutenant Leonidis Day's Atlanta Narcotics Task Force. Syn's primary goal in his life has been to be a great cop. There has been no time for relationships, romance, or especially love.
Syn was dedicated to his new force, focused and ready to back up God and Day as their third in command, but what he wasn't ready for was the feelings he got from seeing the love they had for each other.
Syn's all prepared to accept his lonely fate until he walks into a small pub and meets long-haired,
tattooed, bartender, Furious Barkley. Before he can even understand why, Syn's feeling things he barely recognizes: passion, yearning, cravings; and if the dark, lustful gazes are anything to go by, Furious might be feeling the same things for him.
Just one thing needs to happen before Furi and Syn can give each other what's been missing from their lives for so long…
Syn needs to allow happiness into his world and Furi needs to learn to open his heart and trust again.
God, Day, Ronowski, and Johnson are still as entertaining as ever…
You'll swoon over God's massive take-charge attitude…
You'll laugh hysterically at Day's never-ending wit…
You'll fall in love with Furious' mysterious, sexy demeanor…
and…
You'll embrace Syn…
Disclaimer: This book DOES NOT contain scenes of polygamous sexual pairings.
REVIEW:
Never thought I would say this but that disclaimer made me feel like "awww what a shame" and that is weird coming from me because I am really a monogamous reader so to speak.
But to not have the opportunity to see these 4 men from these two books together is such a shame.
(and god how I loved the break in and the scene featuring all 6 men)
But on to this book that is definitely worth talking about. Although I didn't fall in love like I did with God and Day, I sure have some warm feelings for the main men from this book, Syn and Furious.
Even though this story can be read as a standalone, for me the power of this whole piece is the connection with the characters from the first book.
Syn and Furi are a hot couple and although I thought that Syn's coming out was a bit fast and all, the way they are together is great. Furious is a hot and sexy guy who's left wondering what it is that Syn wants.
They go through some stuff together which make them both see and take charge. Eventually bringing them both to their happy ending.
Like I said before, it is said that it can be read as a standalone but I would honestly start with the first book because it is so worth it to meet Day and God and to understand the special connection in this second part.
What I do want to say that you shouldn't expect a perfectly edited book because unfortunately there is still some work there that could only make the book in general even better.
I personally cannot wait to start with book 3 as this series has me totally hooked, and I feel extremely lucky I had the pleasure picking it up 🙂
RATING:
Buy Link:
Title: Here Comes Trouble
Series: Nothing Special #3
Author: A.E Via
Publisher: Via Star Wings Publisher
Length: 298 pages
Blurb:
Detectives Mark Ruxsberg and Chris Green are very good at their jobs. Being the enforcers for God and Day's notorious Atlanta PD Narcotics Task Force causes the crazy duo to get into more trouble than they can often get out of. The pair never misses out on an opportunity to drive their Lieutenants crazy with their dangerous, reckless, and costly stunts, landing them in the hot seat in front God… often.
Ruxs and Green love their jobs and they don't mind the very demanding schedule that leaves them little time for socializing or dating. It was fine with them, they enjoyed hanging out with each other anyway.
However, most of the men in their close circle of friends and colleagues are pairing off and settling down. God has Day, Ro has Johnson, and their Sergeant Syn has Furious.
For the past several years, Ruxs has only sought out the advice and company of one person, his partner and best friend Green, and vice versa. Both of these alpha males are presumed straight, but neither can deny the heat that's building in their once 'just friends' relationship.
REVIEW:
Fantastic let me start with that. What a amazingly fabulous book
Is it perfect? No it isn't,  especially not perfectly written but gosh what a good soulful story! I cannot say different. To read about these familiar characters is such a joy and to read how Green and Ruxs get together finally is such an amazing read.
The sexual tension is brilliant and sizzling hot like it was in the first two books. The bonding between the task force and the men you got to know over the books is so good to read.
Ruxs and Green are partners in almost every sense of the word besides sexually, something that is even been worded by Curtis in the book and he is right .
They just needed to realise it. This third part tells their story how they get together, it tells the story about the task force, about family and tells the story of Curtis their "son".
There is action, drama, sex, family, friends, loyalty and love and all of that is been written up in a wonderful third book which leaves us with multiple teasers. I mean, it's all fine that Michael is gay and joining the force and I really would like to see his story but please can we get Curtis and Gen and their story like RIGHT NOW please!
RATING:
Buy Link:
Overall I thoroughly enjoyed this series. It made me smile, it made me, worry. I made me excited and ecstatic and it made me fall in love with the men in this task force. And did I mention it made me hot?
I am seriously anxiously waiting for any new book that will come.
I challenge you to not fall in love with these men in one way or another. Is it perfectly written? No it isn't, but the characters, the love shining in the books, make up for whatever editorial mistake you will find in my opinion.
I would have some suggestions even, where I mentioned that I really would like to have Curtis and Gen next (hands off!!) and I want to read Michael's story too. I would also be very pleased if author A.E Via would tell us perhaps in a short story Ro and Johnsons complete story and yes I admit where I am absolutely not a fan of polygamous relationships I cannot wait to read more Day , God, Ro & Johnson paired up together "literally" which I hope we could see in that short story.
So Miss Via Please keep writing fast because you for sure gained a new fan for this series.
Overall Rating:
( with the 5 stars for the first book the 4.5 for the second I feel like the third book I would have liked to give more than 5 if I could have, so it would average out in 5 for sure 🙂 )