Reviewed by Carissa
TITLE:  The Merchant of Death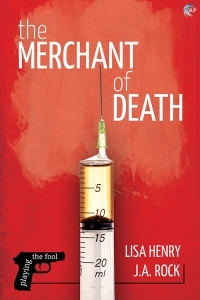 SERIES:  Playing the Fool #2
AUTHOR:  Lisa Henry and J.A. Rock
PUBLISHER:  Riptide Publishing
LENGTH:  205 pages
BLURB:  
All's fair in love and war.
There's something rotten in the state of Indiana. When con man Henry Page takes it upon himself to investigate the death of an elderly patient at a care facility, he does so in true Shakespearean tradition: dressed as a girl.
FBI Agent Ryan "Mac" McGuinness has more to worry about than Henry's latest crazy idea. Someone is trying to send him a message—via a corpse with a couple of bullets in it. He needs to figure out who's trying to set him up before he gets arrested, and he really doesn't have time for Henry's shenanigans. Then again, he'd probably be able to focus better if Henry didn't look so damn distracting in a babydoll dress and a wig.
But when Mac discovers that Henry has been keeping a secret that connects the cases, he has to find a way to live on the right side of the law when he just might be in love with the wrong sort of man.
REVIEW:  
Oh you wonderfully evil authors…how can you be so kind and so mean at the very same time??? You gave me Henry Page in lingerie and another bloody cliffhangers? That's just evil. Evil.
This book picks up right where the book one cliffhanger left us. Henry is on his way to see his sister, and Mac is left hanging. Again. Henry kinda regrets that, since they were so damn close to finally getting in some naked-fun-time, but in the grand scheme of thing, his sister will always come first. When he shows up in Zionsville, and finds out that something hinky is going on in the care home where his sister lives, he shows just how far he is willing to go to take care of her. Even if it includes dressing up as his twin sister and taking her place in the facility.
Meanwhile Mac is dealing with his own set of problems–almost all of them having to do with Henry in some form or another. And oddly enough, having almost slept with a con man is not on the top of the list of things trying to fuck up his week. It seems someone has a hard-on for messing with his life, and is trying to set him up to take a fall. And if the asses in OPR (the Office of Professional Responsibility) are anything to go by, that someone is doing a bang-up job. So right now is a horrible, absolutely horrible time for Henry to pull another one of his stunts.
One of these days Mac is going to have to figure out why the universe hates him so very very much.
First off, I'd like to thank the gods, fates, or any other being–real or imaginary–for giving these authors the idea to put Henry in some knickers. Just…Thank. You. So. Much. That was the best thing I have read all week. Not that the story wasn't awesome all by itself…but, my god, when Lisa Henry and J.A. Rock finally stop cockblocking they do it in style.
So, thank you, from the bottom of my kinky little heart.
As to the rest of the story not focused on Henry in skirts and lacy undergarments…I have to say this one was as enjoyable, if not more so, than the first book in the series. I loved how the relationship between these two is growing and twisting them up into all sorts of new and interesting shapes. With all the tension between what is the 'right' thing to do, and what they want to do, it makes for an interesting push and pull. Because 'right' for both of them is both different and the same. Legalities aside, Henry is a bit of a basket case, and Mac is increasingly finding himself between a rock and an arrest warrant. Everything, including their own consciences, are telling them to walk away. But they can't. They just can't. Which makes it all the more intriguing to read about.
While the mystery with Henry's sister really isn't all that mysterious, I did really enjoy it. If only because of Henry in a dress. *purrs happily* And I am really looking forward to seeing how Mac's issues get resolved in book three. Because: cliffhanger. Bloody stupid cliffhangers.
Highly recommended.
RATING:  
BUY LINKS: