Reviewed by Dennis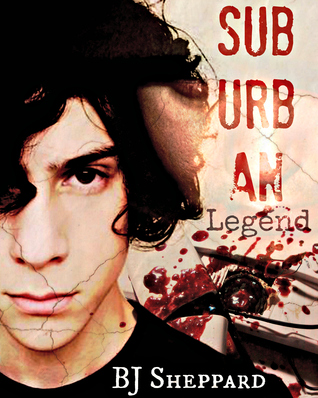 TITLE:  Suburban Legend
AUTHOR:  BJ Sheppard
PUBLISHER:  Self Published
LENGTH:  136 Pages
BLURB:
Halloween is coming, and as the parents of Damsel Creek celebrate the occasion in style, the teen population of the sleepy town are forced into caring for their youngest counterparts. As Aaron settles in to a night of babysitting at the house of the Chief of Police, he faces strange occurrences at every turn. With news of a killer on the loose, he tries to convince himself his mind is playing tricks on him, but when a series of menacing phone calls alert him that the threat is real, he has no other option than to fight. Can Aaron make it through the night as the target of a stalker who desires his death, or will Halloween be coming early this year? Are you brave enough to read what happens when the line between real life and horror blurs?
REVIEW:
As the adults of Damsel Creek head out to celebrate All Hallows Eve the teenagers stay in and babysit the younger children to earn money for their own costumes for their own night out on Halloween. Aaron has the chance to earn some good money babysitting the son of the Chief of Police, Casey. Little does Aaron know that this babysitting job might not be as easy as any other babysitting job he's might have had in the past.
Suburban Legend reminds me of "the call is coming from inside the house" and the line is even used. The differences from that story and this one is that the main character is a male and gay. The story isn't anything new as horror babysitting stories go, but the way BJ Sheppard grabs and keeps you and makes you want to keep reading, is. BJ paints a picture that puts you in the action and makes you feel like you're the one running for your life. Halloween isn't the only time to read a good horror story and if that is your thing, or even if it's not, take a chance and get your heart pumping with a good thriller that all happens in your head where even though the story has been told a thousand times you just need to read it and experience it for yourself.
RATING:
BUY LINKS: